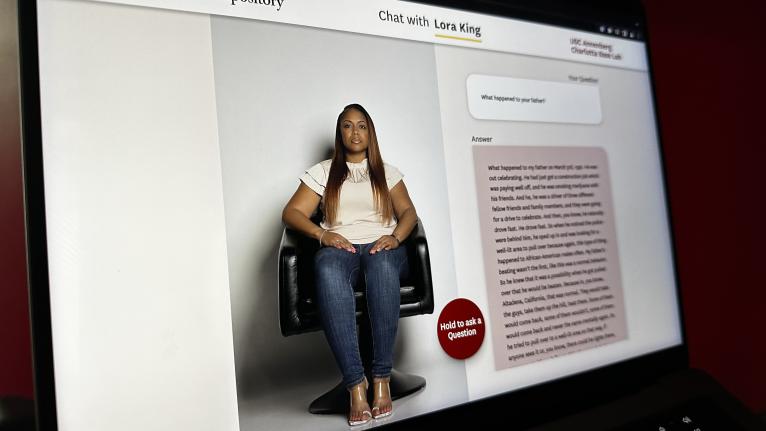 Interactive Interviews
Our Interactive Interviews create engaging learning opportunities through real-time conversations using pre-recorded videos of real people.
Interactive Interviews create engaging learning opportunities through real-time conversations using pre-recorded videos of real people. They preserve and expand the reach of important stories, perspectives, and lived experiences by allowing anyone in the world to directly ask questions to the interviewee. Users drive the conversation around their curiosity and interests – so no two interactions will be the same.
See the technology and use cases for Interactive Interviews.
How do Interactive Interviews work?
Using natural language with speech-to-text input, users are able to ask questions on the website, and the AI will match and deliver a previously-recorded video answer. While Interactive Interviews utilize advanced technology, for the user, the interaction will feel just like a normal conversation with a human.
When a user asks a question, the AI interprets their answer and plays back the most appropriate video clip from the interview.
Chat with the USC Digital Repository
Learn how Interactive Interviews work by "talking" to our team through our own Interactive Interview. Interactive Interviews work best on a computer, phone, or tablet in the Chrome browser.
Frequently Asked Questions (PDF)
Read answers to some of the most common questions we get about Interactive Interviews.
How do we make Interactive Interviews?
We start by working with you to write questions for the interviewee, about 200 questions per day of filming. We bring the interviewee into a studio at USC or off-site and film answers to each question, one at a time. Then we transcribe the answers and train an AI to understand all of the answer and question combinations. 
How Do Users Interact with the Interview?
Website
Every Interactive Interview is available on our website for users anywhere in the world to chat with whenever they want. The website works on a computer (Chrome), phone, and tablet.
User Experience Video (1:18)
Watch a short video illustrating how a user interacts with the website.
Exhibit Display
We can create a set-up installation for a launch event or a temporary or permanent exhibit by displaying the Interactive Interview on large televisions with microphones or with life-size immersive holographic displays.
Who is Using Interactive Interviews?
The USC Annenberg Charlotta Bass Journalism and Justice Lab is using Interactive Interviews for its Second Draft Project to revisit pivotal moments in social justice history. It offers those connected to these events a chance to highlight areas where initial media coverage may have been incomplete, inaccurate, or even harmful. By utilizing Interactive Interviews, the project transforms visitors into journalists and makes them active participants in the storytelling process.
Launch Video for the Second Draft Project (1:23)
Dr. Allissa Richardson, founder of the Charlotta Bass Journalism & Justice Lab, explains how Interactive Interviews make the Second Draft Project possible.
Sample Interactive Interview
Lora King is the daughter of Rodney King and founder of the Rodney King Foundation. You can talk to her about what her father was like; her experiences during his beating, the LA riots, and the trial of the police officers who beat him; and her work today.
This guide gives students background information on Lora and Rodney King, suggested prompts to get started, and additional learning materials.
Press Coverage